FountainBlue's mentorship and coaching program works with growth-minded enterprises and start-ups to recruit, retain, advance and promote leadership and innovation. FountainBlue regularly works with start-ups through our advisory services, and with enterprises through our coaching, training and mentorship program development activities.
To become a corporate partner and participate in monthly programs and our annual mentorship awards event, e-mail us at info@whenshespeaks.com.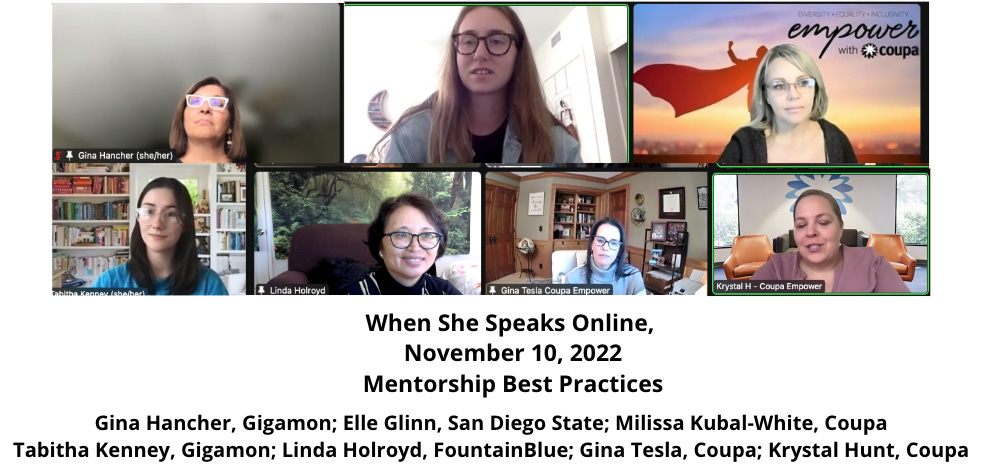 FountainBlue's November 10 When She Speaks program, on the topic of 'Mentorship Best Practices'. Please join me in thanking our hosts at Coupa and our esteemed panelists.  We were fortunate to feature pairs of mentors and mentees who spoke passionately about the personal benefits and the business value for mentorship relationships. Below is a compilation of best practices.
Thoughts About Mentorship
Treat mentorship like a two-way street where all parties learn and benefit.
Consider mentorship an opportunity to learn about the past and learn about the future.
Be open to mentoring those around you formally or informally.
Pay it forward, in return for all those who paved the road for your own current successes.
Suggestions on How to Support Your Mentor/Mentee
Shine the light on what she/he is doing/can do.
Provide opportunities for her/him to stretch into new ways of thinking/speaking/working.
Help your mentee/mentor leverage their past experiences to succeed with current challenges and opportunities.
Work with your mentee/mentor to strategically create and expand a network of contacts and supporters.
Be humble, personable, vulnerable, and practical as you work with your mentee/mentor to better address their questions and challenges.
Be specific and plan-ful about the logistics so that the mentor/mentee relationship can be fruitful.
Share colorful stories about your own challenges and opportunities so others can learn from your experience and perspective.
Keep Reaching for Stars – as an individual and as a mentor/mentee
Always listen and look for opportunities to grow and expand.
Challenge yourself to keep raising the bar and learn from all around you.
Be constantly open and curious.
Get good at giving and receiving feedback.
Model the way for others around you, in front of you, behind you, for you never know who's watching and learning from you!
Advice about Creating and Growing a Mentorship Program
Make the business case to secure resources and funding.
Recruit an executive sponsor who is passionate about mentorship and influential within and outside the organization.
Invite a wide range of people from diverse backgrounds to participate, for the benefit of all involved.
Collaborate with HR and L&D and ERGs to deliver excellence in the mentorship program.
Consider helping mentees transition to mentors, and sponsor mentors into stretch roles with the support of coaches.
The bottom line is that we must all make the time to mentor and support others around us, for that is what helps each of us to learn and grow.
---
Friday, November 12, 2021, 11:50 a.m. – 1:00 p.m.
Third Annual Mentorship Best Practices Panel
Online Program, Hosted by Pure Storage
If you have a dedicated, hard-working, and intelligent staff at any level, Mentorship becomes THE difference-maker. Sure, education and experience matter, but Mentorship can frame that education and experience and make them into learning opportunities.
Sponsorship is important, but without Mentorship, it's hard for the sponsor to make a business case.
Culture is important, but mentorship helps mentees (and mentors) succeed and even thrive in existing culture. Indeed, mentees and mentors can together even shape the culture so that more people benefit.
Facilitator Linda Holroyd, CEO, FountainBlue

with opening remarks by Niki Armstrong, General Counsel, Corporate Secretary, and Chief Compliance Officer, Pure Storage
Mentors:
Peter Holland, VP of Supply Chain, Lam Research
Milissa Kubal-White, Manager, Global Sales Enablement, Coupa Software, Empower Board Member, Coupa Software
Ellen Lail, Regional Sales Director, Pure Storage, co-chair Women @ Pure
Umesh Lakshman,

Head of Solutions Architecture, West, Lumen Technologies
Mentees:
with closing remarks by Dena Sikes, Director, National Partners, Pure Storage, co-chair, Women @ Pure
Order your tickets online: $50 general admission
---